Tuesday morning, I decided to begin to cultivate my green thumb. That same day, I encountered a strange flower in the field next to my house. I shared that encounter (see below) on Facebook. Thursday morning, I received the news that my Uncle Fred died in a horrible car crash. It dawned on me yesterday, that when I first moved in this house, my Uncle Fred was growing greens and other vegetables in that field. He had a whole tractor! A green thumb is my ancestral right, because I am my ancestors. So are you.
Get curious about your ancestors. Who are they? What did they enjoy? Did they work with their hands? How did they move in this world? Get rooted in the stories of your ancestors, and you will find yourself. Today, I created a short talk about the importance of accessing, invoking, and communicating with your ancestors…especially if you're finding that you're grasping for your identity. They want to guide you. They want to assist you. They are seeking to commune with you. But you have to engage with them first.
I am choosing to call upon and seek my ancestors for guidance. I have a feeling Uncle Fred has a lot to teach me about growing plants.
Y'all be blessed and be well. Ok?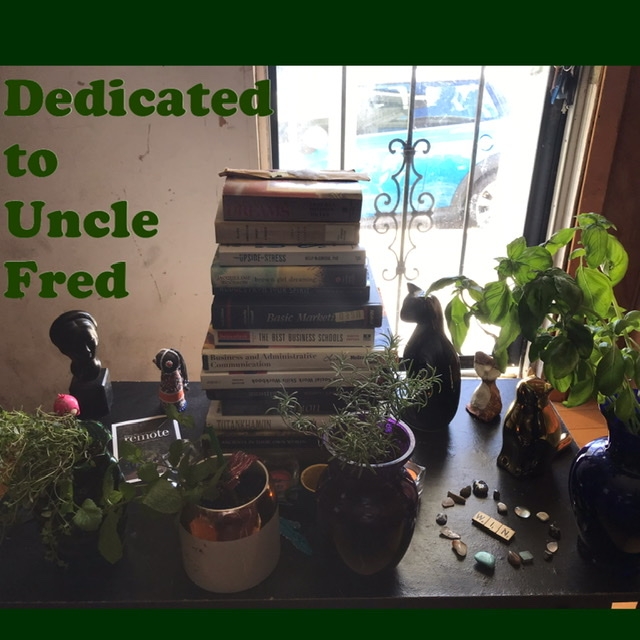 YouTube Video Link: https://youtu.be/eUUZZVYc2Ao
SoundCloud Audio Link: https://soundcloud.com/user-990474421/kimagine-that-accessing-your-ancestors
•Polarity is Potent• (Posted on FB Tuesday)
I had one main intention today: shop for herb plants, flowers, and thrifted glass jars and pots to begin my indoor herb and flower garden. My goal was to pot 5 plants before bedtime. See, I use herbs and flowers for and in dang near everything: cooking, my apothecary, my skin and body care, my cleaning products, teas, and other concoctions and potions. So why spend money unnecessarily when I can grow them at home? But here's the deal, I don't have a green thumb. That's what I told myself, and what I've been telling myself for years.
I searched high and low in dang near all the nurseries within a 10 mile radius of my home. And I visited at least 3 thrift stores with few to no options of glass jars and pots. I am an explorer, so I didn't mind driving around to "look and see" what I could find. I even called momma (and if you've seen my momma's flower bed, then you know her green thumb is kissed by Jesus himself) to see if she could give me some potting soil, and she still ain't called me back lol!
2.5 hours into my exploration, hungry and feet tired from all the walking, one rosemary plant and 3 glass jars later, I decided to call it a day, thinking maybe this no green thumb having self-inflicted belief I had about myself was steeped in truth. I felt it was a sign that either now is not the time, or it just ain't meant to be.
Then I pulled up in my driveway, glanced over in the field next to my home, and saw some small red things sticking out of the ground. I noticed them a couple of days ago, but wasn't in a curious space to walk over and explore. Today, however, was different. Y'all know how I feel about signs and symbols…the red spots called my name. KoKo the Cat and I walked on over to see what the what deal was. Except KoKo bailed on me halfway cross the field. Clearly she was not feeling the whole Boots to my Dora situation that was about to go down.
As I got closer I realized they were flowers! There were about 8 sprigs of randomly placed flowers. Before touching them I did some Googling to learn they're called Red Spider Lilies. Long story short, in Japanese culture, they symbolize death. At least that's what I gathered from a user named EvanescentPhantonCat on Wattpad.com (see picture for full symbolism).
Traditionally, we mourn over death. Death carries with it feelings of loss, darkness, and pain. But here's what I want you, the reader, to understand. Polarity is potent. Polarity is defined as the state of having two opposite or contradictory tendencies, opinions, or aspects. To me, this is a two sides of the same coin type of deal. Like, Beyoncé and Rihanna are different, yet they both are divine feminine, incarnated. Like Lexus and Toyota are set at different price points, yet, they're both owned and operated by the same company.
So on the other side of death is birth. Flip the coin of loss, and you'll find life. Walk through the door expecting defeat, but keep walking and you will meet victory. Remember Newton's third law: for EVERY action, there is an equal and opposite reaction. I could have easily read the flower's symbolism and hung up my lil green thumb crown that I have wanted to wear for so long. INSTEAD, I'm CHOOSING to lay to rest my doubts, and birth my belief that for the work I am doing, and for the work that I am destined to do, I already possess my green thumb. Plus, my mom has a green thumb, so naturally, it's in my DNA.
My questions and thoughts for you:
🌺 What do you need to put to death, in order to make way for a birthing?
🌺Have you searched for the beauty in your dark place?
🌺Resolve resides on the other side of doubt.
🌺Pain cannot exist without joy.
Get curious about the polarity of your experience, and make up in your mind that what's on the other side is very much so possible for you to attain and enjoy.
By the way, I used the Red Spider Lily in one of my Florida Water recipes. This is gonna be some magical stuff 🙏🏾❤️ 🧚🏾‍♂️